audio etcetera
Look Ma!
"On The Edge" of Cleaver Magazine
asked me to record my poem, "God Is My Alibi"
for this new podcast series
which addresses issues of social justice.
Thanks to Editor, Rosie Huf & Ryan Evans
for producing this series!
Cleaver's most read poem of 2016https://soundcloud.com/on_the_edge/cynthia-atkins
Look Ma NEWS!
"Still-Life With God" accepted for publication
Hermeneutic Chaos Press, Winter 2018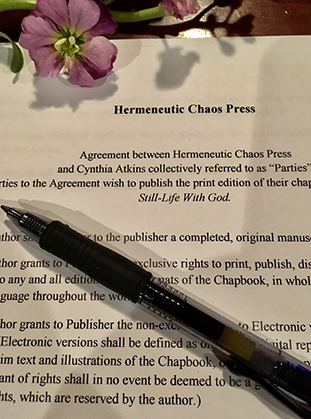 Look again Ma!
"God Is A Shock-Jock" just published in the New York Times
via Nicholas Kristof's, "Donald Trump Poetry Contest"
and here is the link--
https://kristof.blogs.nytimes.com/2017/01/23/enter-my-donald-trump-poetry-contest/?comments&_r=0#permid=21258591
I am thrilled to learn that my poem, "God Is My Alibi" has
been accepted for a forthcoming issue of Cleaver Magazine in
their new "Life As Activism" folio--*One of my dream journals
and will bemy 2nd poem there!--(*first poem won 'most
read poem ' last year!) Real grateful to journals giving
us platforms now---this poem addresses the incarceration issues
of the last 40 years.
Grazie to Poetry Editor, Matthew Girolami
& founder, Karen Rile for the support. Coming real soon
and I needed some light today, Thwack!
http://www.cleavermagazine.com/god-is-my-alibi-a-
poem-by-cynthia-atkins/
Good stuff!
Cynthia Atkins interview Vi Khi Nao for
American Microreviews and Interviews
www.amercianmicrointerviews.com
Alaska Quarterly Review has gone digital and now you
can read my poems here:
https://aqreview.org/montage-obscura/
Look Ma!
This morning "God Is A Medicine Cabinet," Issue #6 has reached
1K shares,--which is about as viral as a poem of mine has ever gone--deep thanks to all who have shared and to the stellar editors,
Wale Owoade and Saddiq M Dzukogi at EXPOUND
for this beautiful journal!. Issue #7 live too!

So pleased to share this poem was just nominated for
Best of the Net 2016 by EXPOUND--
http://expoundmagazine.com/god-medicine-cabinet-cynthia-atkins/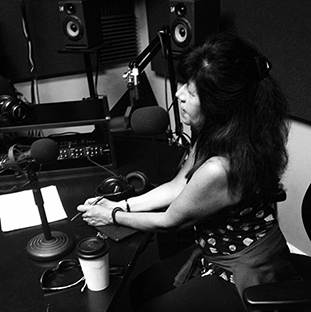 Here is my first podcast via Poetry Fix
and the CoLab in Roanoke, VA*
With thanks to editors, Grant Kittrell, April Gray Wilder,
and Sound Tech, Tom Kraemer :
http://fictionfix.net/if-these-walls-could-talk/
Featured in LA's Cultural Weekly:
http://www.culturalweekly.com/awp-poets-richard-garcia-cynthia-atkins-david-tomas-martinez/#.VvQKvUvJ4M0.facebook

"My Persona" made Cleaver Magazine's Most Read List 2015!
Most read poem!
http://cleavermagazineblog.com/2015/12/27/
cleavers-most-read-list-for-2015/

TheThe Poetry Blog's Poem of the Week, March 2015:
curated by Cynthia Atkins
with Bruce Covey, Rachel Eliza Griffiths and Lee Ann Roripaugh
http://www.thethepoetry.com/2015/03/poem-of-the-week-
rachel-eliza-griffiths/
"This poem is one we had to highlight--it's Cynthia Atkin's piece 'Proba Vitae' in TinderboxPoetryJournal, vol. 1 issue 2. It's got both a very Parisian and American cross-country roadway flavor--one or the other, or even both at the same time. It's reminiscent of Wyeth paintings [all of the painters] in a strong tonal way. What an amazing piece. . . . "
LITNAV
http://litnav.blogspot.com/2014/10/cynthia-atkins.html

Prime Number Magazine
"Update 67.2 is NOW LIVE! Flash fiction by Kelly Miller and Jennifer Fliss; Featured poetry by Cynthia Atkins and Candace Butler; and an essay by Paige Towers. We hope you enjoy this fine work!"
http://www.primenumbermagazine.com/Issue67_PrimeDecimals2.h…
http://greenmountainsreview.com/
BOO!
http://northamericanreview.wordpress.com/2014/10/31/elegy-of-a-scarecrow-by-cynthia-atkins-from-issue-296-4/
Poets & Writers Clip of the Day
in collaboration with Nic Sebastian and the Poetry Storehouse
http://www.pw.org/content/family therapy
Derek Alger interview for Pif, July 2014
http://www.pifmagazine.com/2014/07/cynthia-atkins/
Featured at the Poetry Storehouse:
"Family Therapy IV" (video and audio by Nic Sebastian)
https://www.facebook.com/nic.sebastian?fref=ts
http://poetrystorehouse.com/2014/07/12/cynthia-atkins-poems/
Look Ma!
Huffington Post
March 2014
http://www.huffingtonpost.com/loren-kleinman/our-subjects-pick-us-cynt_b_4936029.html?utm_hp_ref=books&ir=Books
Interview on Bill and Dave Cocktail Hour by Mary Crockett
http://billanddavescocktailhour.com/read-read-read-everything-an-interview-with-poet-cynthia-atkins/
Featured in April at the Toronto Quarterly:
http://thetorontoquarterly.blogspot.com/
http://muse.jhu.edu/journals/utq/
Interviewed by Darryl Salach, Editor-in-Chief
The Toronto Quarterly
Reading Foundry
The Rapp Poetry Saloon, July 26, LA
http://www.youtube.com/watch?v=ZV7siHj08-g
Featured on Cultural Weekly in LA
http://www.culturalweekly.com/poetry-sight-signs-cynthia-atkins.html
*Her feature on Cultural Weekly garnered 600 hits, tripling any other piece on the site.
"Hearts of Darkness"
http://www.litbridge.com/2012/11/19/in-hearts-of-darkness/
Christopher Lee MIles' poem: "Phaeton"
http://linebreak.org/
Audio interniew with Henry McCarthy:
http://archive.org/details/PoetsAndWriters
https://pinvents.com/event/152521474939082/
a-make-out-reading-no-kissing-no-telling
The Broome Review
http://profileengine.com/groups/profile/437537898/the-broome-review
In the archives of Caketrain
www.caketrain.org/contributors/
Chelsea
www.chelseamag.org/archive/archive.asp
"God's Watermark"
Cleaver Magazine
http://www.cleavermagazine.com/my-persona-by-cynthia-atkins/
Clementine Magazine
www.clementinemagazine.com/
Cultural Weekly
http://www.culturalweekly.com/awp-poets-richard-garcia-cynthia-atkins-david-tomas-martinez/#.VvQKvUvJ4M0.facebook
Del Sol Review
http://delsolreview.webdelsol.com/
"Hillsides," "You should Question," "Dear Reader"
Denver Quarterly
www.denverquarterly.com/current.cfm
"Driving All Night
Expound, Issue #6
"Hello Stranger,"
http://expoundmagazine.com/cynthia-atkins/
Expound: A Magazine of Arts & Aesthetics, Issue #6, June 2016
"God Is A Medicine Cabinet,"
http://expoundmagazine.com/god-medicine-cabinet-cynthia-atkins/
Fiction Fix
Forthcoming, 2015, Summer "If These Walls Could Talk"
Gamut Magazine: "The Street Is A Museum" http://gamut.online/node/211
and "God Is The Myth" http://gamut.online/node/184

Gargoyle
Forthcoming 2015: "My Password" "Graffiti is My Mother"
http://www.gargoylemagazine.com/gargoyle/Issues/Issue60.php
Green Mountains Review:
http://greenmountainsreview.com/?p=5027
Harpur Palate
www.harpurpalate.blogspot.com/p/back-issues.html
Hawaii Review
www2.hawaii.edu/~hireview/index.html
Hermeneutic Chaos Journal
http://www.hermeneuticchaosjournal.com/cynthia-atkins-september-2015.html
Hermeneutic Chaos Journal, July Isssue #15
"A Goddess In Purple Rain"
http://www.hermeneuticchaosjournal.com/a-goddess-in-purple-rain-by-cynthia-atkins.html
Inertia Magazine
www.inertiamagazine.com/issues/011/atkins.php
"When Homer Roams" (forthcoming)
In Other Words, Merida
www.inotherwordsmerida.com/2012/03/04/3-poems-by-cynthia-atkins/
"Picture This" "Crickets" "Vacation"
In Quire
031454a.netsolhost.com/inquire/2011/11/10/christine-drake-and-cynthia-atkins/
"In Plain Sight" (collaboration with Christine Drake) Nov 2011
The Journal
www. thejournalmag.org/archives/2836
Juice Press
http://juice-press.com/poetry2007/atkins/atkins2.html
"Terror in the Streets"
Le Zaporogue
http://www.lulu.com/shop/various-authors/le-zaporogue-13/ebook/product-20616370.html
"Disclosure"
"In Whose Broken Window"

LitBrdge for printing my piece.
www.litbridge.com
"The Ties That Bind: Blood and Ink"
on the subject of writers, readers and family matters--
New York Quarterly
http://www.amazon.com/The-New-York-Quarterly-Number/dp/1934423610
"Birthday Poem"
North American Review: Fall 2011 Issue 296 No. 4
https://access.uni.edu/cgi-bin/cart/shop.cgi?master_id=2
"Elegy for a Scarecrow"
The Open Window Review
http://openwindowreviewezine.wordpress.com/2013/04/13/in-a-parallel-universe/
"In A Parallel Universe" and "Wealth Management"

Alessandra Bava for Patria Letteratura: http://www.patrialetteratura.com/cynthia-atkins/
Three poems from In The Event of Disclosure have been translated into Italian.
Poetry City, USA
"God Is A Bullet"
(forthcoming)http://www.poetrycityusa.com/
Poetry Society of America
www.poetrysociety.org/psa/poetry/crossroads/psa_pals_1/psa_pals_cynthia_atkins/--
Poetry Super Highway
http://poetrysuperhighway.com/ppa/ppa481.html#fp1
"Train Song"
Prime Number Magazine
http://www.primenumbermagazine.com/Issue67_PrimeDecimals2.h…

Seattle Review: Vol 28, No 2, 2006
http://depts.washington.edu/seaview/back.html
Sweet: A Literary Confection, "Imaginary Friends"
https://sweetlit.wordpress.com/issue-9-3/poet-cynthia-atkins/
Tampa Review
www.ut.edu/TampaReview/TRDetail.aspx?id=12170
"Shelf-Life"
"When Cows are Lying Down"
Tinderbox Poetry / Proba Vitae
http://www.tinderboxpoetry.com/proba-vitae
The Texas Review Summer, 2000
http://www.shsu.edu/~www_trp/archive/2000.html
"Good-bye To Winter"
Thema
http://themaliterarysociety.com/issues/REALITY.htm
"And So the Joke Goes"
Thrush Poetry Journal: July 2013
http://www.thrushpoetryjournal.com/july-2013-cynthia-atkins.html

Valparaiso Review
www.valpo.edu/vpr/atkinsgoogle.html
"Google Me"
Verse Daily: August 15, 2013
http://www.versedaily.org/2013/aboutcynthiaatkins.shtml

Verse Daily
http://www.versedaily.org/2009/aboutcynthiaatkinspw.shtml
"Inclement Shades of Weather"
Zocalo Public Square
http://www.zocalopublicsquare.org/2013/01/18/nest/chronicles/poetry/
"Nest"
http://www.zocalopublicsquare.org/2013/06/28/inkeyholes/chronicles/poetry/